About
The Central Jersey Transportation Forum (CJTF) was formed in 1999 to coordinate planning among municipal and county leaders at the border of two Metropolitan Planning Organizations (MPOs) with the goals of managing growth and increasing mobility throughout the Central Jersey area. The goal of the Forum is to achieve improved and more integrated regional land use and transportation planning that will result in a better quality of community life. Planning has, thus far, focused on critical issues in achieving this goal, including east-west access, and improving coordination of transportation and land use in this high-growth, congested area. especially along the US-1, US-130, and US-206 corridors in Mercer, Middlesex and Somerset counties.
High-level representatives from 25 municipalities, three counties, numerous state agencies and other regional bodies meet three to four times per year to discuss transportation and land use issues, share best practices, and implement solutions. This partnership is facilitated by the Delaware Valley Regional Planning Commission (DVRPC) in coordination with North Jersey Transportation Planning Authority (NJTPA) and New Jersey Department of Transportation (NJDOT).
The Forum has been a champion of implementing NJDOT's Route 1 Regional Smart Growth Strategy (Rt1 RGS), which centers on a smart growth approach that encourages mixed-use development, redevelopment opportunities, and increasing intensities and densities of land uses. Membership also participated in a Route 1 Bus Rapid Transit (Rt1 BRT) study conducted by NJ TRANSIT, has remained dedicated to seeing the conclusions of this study implemented, and continues to facilitate the coordination of land-use decisions that will support BRT.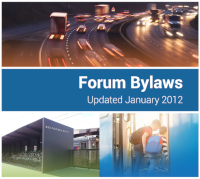 STRATEGIC PLAN
The Forum's Steering Committee and its leadership have been instrumental in maintaining progress toward a regularly-updated strategic plan. The most recent update was adopted by Voting members in May 2018 following a full-day workshop with voting members and subsequent work by the Steering Committee. The Plan includes strategies and actions to be taken up by the Forum, organized under three main goals:
1. REGIONAL PLANNING SUPPORT: Implement coordinated land use and transportation plans across municipal boundaries;
2. INFORMATION EXCHANGE: Connect and convene members to encourage information-sharing and collaboration; and
3. EDUCATION & RESOURCES: Provide programming and resources that elevate understanding of critical regional transportation issues, and provide opportunities for funding.